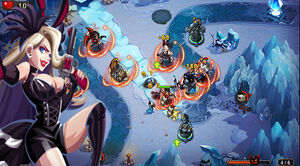 In Campaign, the regular stages and bonus stages are divided into two modes, a head-to-head mode and a Tower Defense mode respectively. On either side of the main road are Bonus stages, and you can unlock one after passing several regular stages.
Bonus stages don't consume stamina to play.
In Normal mode for every challenge you have 10 lives, and in Elite mode just 1. Every time you pass a new Bonus stage, you get a one-time reward of exp elixir, and Elite stages will also reward diamonds. The more Bonus stages you pass, the more exp elixir you accumulate per hour as well in the Exp Pool. (For more specifics, please tap on the " ?" in the lower left corner and see Rules)
Deciding which heroes to bring along in Tower Defense can be difficult. Heroes in TD generally fall into three groups: Tanks, Damage, and CC/Support. Heroes will be discussed with these groupings in mind. Generally you want to bring along 1-2 tanks, 1-3 CC / support, and the rest DPS heroes.
For the heroes below, Tier 1 is better than Tier 2, which is better than Tier 3.
Heroes in the "Tanks" section stand closest to the Crystal to protect it from incoming enemies. Heroes in the "Damage" section surround the tanks and create a kill zone that obliterates enemies within as the tanks prevent them from moving forward toward the Crystal. Heroes in the "CC / Support" section don't need to be near the kill zone to be effective and can be placed at other enemy interaction points farther away and still be lethal (e.g. they slow the enemy down, they have a long range ultimate, and/or they aren't ideal for creating tremendous kill zone damage).
Tier 1 Tanks:
Tier 2 Tanks:
Tier 3 Tanks:
Tier 1 Damage:
Tier 2 Damage:
Tier 3 Damage:
CC / Support
Edit
Tier 1 CC / Support:
Tier 2 CC / Support:
Item drops
Edit
Diamonds (Quest reward for completing the 1st time)
Community content is available under
CC-BY-SA
unless otherwise noted.