This page is outdated. Help the Magic Rush Heroes Wiki by updating it!
About

[

]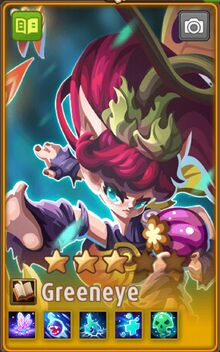 Mid row Mage
Magic basic attack
Can poison enemies and heal allies
Class: Mage
Position: Mid
Damage Type: Magic
Skills

[

]
Nature's Blessing

Infuses a large area with the power of Nature, blasting poisoned enemy heroes over a large area and healing teammates within the area.
Damage +2926.6 @83, Healing Effect +2926.6 @83
Poison Spore

Throws out a poison spore which will poison enemy units. if the enemy unit is already poisoned, it will spread the poison to 2 nearby enemies.
Poison Damage +582.4 @83
Poison Bramble

Plants a bud in the ground which grows in a forward direction, dealing damage to the enemies along the way. Deals another damage when the bud is returning.
Damage +2651.7 @83
Poison Therapy

When an enemy unit is poisoned, Greeneye will periodically regen HP for the 3 teammates with the lowest HP. Healing amount is increased 1-fold for each additional enemy unit in a poisoned state.
Healing Effect +402.4 @83
Awakening

[

]

Greeneye's' 5th skill unlocked by the Awakening quest, Natural Poison.

Increases poison damage for Apothecary heroes.
Damage +36.2 @83
Runes

[

]
| | | | | | | |
| --- | --- | --- | --- | --- | --- | --- |
| Grey → Green | | | | | | |
| Green → Green +1 | | | | | | |
| Green + 1 → Blue | | | | | | |
| Blue → Blue +1 | | | | | | |
| Blue +1 → Blue +2 | | | | | | |
| Blue +2 → Purple | | | | | | |
| Purple → Purple +1 | | | | | | |
| Purple +1 → Purple +2 | | | | | | |
| Purple +2 → Purple +3 | | | | | | |
| Purple +3 → Purple +4 | | | | | | |
| Purple +4 → Orange | | | | | | |
| Orange → Orange +1 | | | | | | |
| Orange +1 → Orange +2 | | | | | | |
| Orange +2 → Orange +3 | | | | | | |
| Orange +3 → Orange +4 | | | | | | |
| Orange +4 → Orange +5 | | | | | | |
Equipment

[

]
| W | G | B | B+2 | P | P+2 | O | O+2 |
| --- | --- | --- | --- | --- | --- | --- | --- |
| | | | | | | | |
Soulstone Location

[

]
Campaign - Elite Chapter 17-4: Floating Corridors
Campaign - Legend Chapter 7-2: Polar Colosseum
Campaign - Legend Chapter 8-4: Second Coming
Strategy

[

]
Updates

[

]
Poison Therapy Greatly Increased health regen
Media

[

]
References

[

]