Mid row Marksman.
Physical basic attack.
Possesses powerful single and group damage skills. Aim carefully.
Twisted Vine

Summons vines to wrap around target, causing physical damage and preventing the target from moving for a time.
+3513.8 Damage @90.
Arrow Shower

Shoots forth a shower of arrows, dealing physical damage to enemies in a circular area.
+3124.8 Damage @90.
Poison Shot

Fires a poison arrow, dealing physical damage and poisoning the target.
+1782.8 Damage & +1470.8 Poison Damage @90.
Lethal Shots

Lufia's outstanding leadership abilities increases the whole team's physical attack power.
+777.7 Attack @90.
Awakening
Edit
Lufia's' 5th skill unlocked by the Awakening quest is Fresh Power.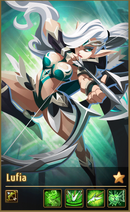 Grey to Green
Green to Green +1
Green +1 to Blue
Blue to Blue +1
Blue +1 to Blue +2
Blue +2 to Purple
Purple to Purple +1
Purple +1 to Purple +2
Purple +2 to Purple +3
Purple +3 to Purple +4
Purple +4 to Orange
Orange to Orange +1
Orange +1 to Orange +2
Orange +2 to Orange +3
Orange +3 to ?
Equipment
Edit
Soulstone Location
Edit
Campaign - Elite Chapter 1-4 (A Sea of Damage)
Campaign - Elite Chapter 2-6 (Surrouded on All Sides)
Campaign - Elite Chapter 12-1 (Roaring Flames)
Campaign - Legend Chapter 9-4 (Fighter)
Island Crusade
Strategy
Edit
Best for: (Choose: Arena/Campaign/Proving Grounds/Crystal Dungeon/Island Crusade)
Best with: (Hero to pair with)
(Embed Youtube videos)
(Screenshot gallery)
References
Edit