Front row Tank.
Physical basic attack.
A veteran warrior that can solo-tank for her team.
Battle Axe

Summons Seeley's axe against a specified anemy, dealing magic damage and knoking the target airbone.
+2845.7 Damage @90.
Fell Swoop

Whirls her axe, dealing physical damage to enemies in a semi-circle in front of her.
+1642.2 Damage @90.
Shock Strike

Strikes the ground, creating a shockwave which deals physical damage to enemies in a rectangular area in front of her.
+3445.9 Damage @90.
Battle Poise

The veteran warrior is adept at dodging enemy attacks.
Dodge +36% @90.
Awakening
Edit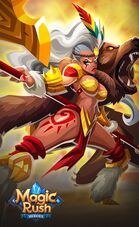 Seeley's Awakening skill hasn't been implemente yet.
Seeley is part of 3 Hero Groups and is affected by the following awakenings:
Grey to Green
Green to Green +1
Green +1 to Blue
Blue to Blue +1
Blue +1 to Blue +2
Blue + 2 to Purple
Purple to Purple + 1
Purple +1 to Purple +2
Purple +2 to Purple +3
Purple +3 to Purple +4
Purple +4 to Orange
Orange to Orange +1
Orange +1 to Orange +2
Orange +2 to Orange +3
Orange +3 to ?
Equipment
Edit
Soulstone Location
Edit
Chapter 4-5: Beware of Ambush (Elite)
Chapter 7-5: Ancient Myth (Elite)
Chapter 5-8: King of the Beasts (Legend)
Chapter 12-5: To the Core (Legend)
Strategy 
Edit
Community content is available under
CC-BY-SA
unless otherwise noted.