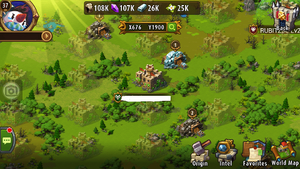 World Map Mode
Edit
When players reach Lv 25, they can enter the World Map. On the World Map, you can see your coordinates, or you can enter coordinates to look up other players' positions. You can also drag the screen to see the players and mines in your area.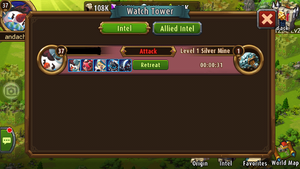 You can attack mines and players. Through attacking mines, you can gather its resources, and by attacking players you can loot their resources.
You can look up places on the World Map to start a city seen as transparent castles.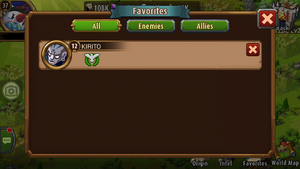 Here you can see battle reports. Information about your troops marching or retreating, attacking and occupying can all be found here.
Favorites You can save and look up Alliance members or other players that you're interested in, and also check on enemies that have attacked you.
World Boss
Edit
NPC Monsters can be attacked by forming a rally between alliance members
Teams of 3 members or more can fight monsters located on the world map by starting a rally.
Chest Reward include gold, elixirs, lucky coin and items awarded to a random member.
Chests are available per 3 members, maximum of 3 chests for a full rally of 10 members
Costs medicine from your healing spring to participate
Monsters range from Level 1-5 with varying difficulty and reward
Community content is available under
CC-BY-SA
unless otherwise noted.